What does Dr. Summer eat? - Part 3
What does Dr. Summer eat? - Part 3
Written By Dr. Summer on September 30, 2020
---
Hello everybody, Dr. Summer here!
Today's blog is part 3 of 3 about what I keep in my office, what I eat in a day, and what I buy at the grocery store. I will preface this by saying that this was a smaller grocery haul. I didn't buy any meat or large items in this grocery run. I also am only feeding two people in my house, my father and I (and my dog, Brodie, if you count him). I will post photos of my groceries and my receipt. I will also note everything I bought, if it was BOGO or on sale.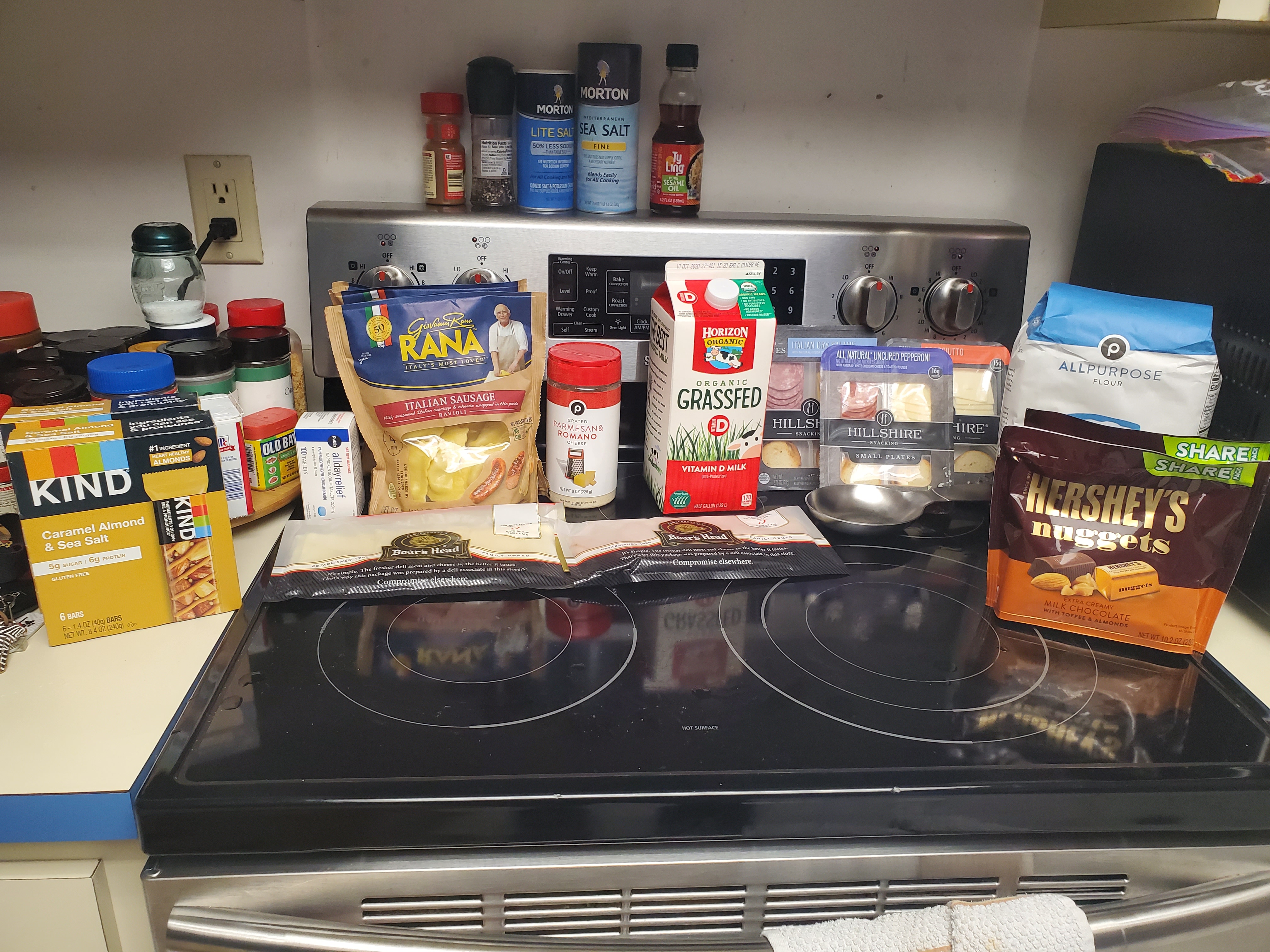 In this photo you can see all kinds of foods. From left to right, I have KIND caramel almond & sea salt (BOGO), Publix brand Aleve (Naproxen), Rana sausage ravioli (BOGO, I also had a coupon for $1 off one bag), Boars Head American Cheese slices, Boars Head Sliced turkey, Publix Brand Romano Parmesan grated cheese, Horizon Grass Fed Whole milk, Hillshire snack plates (I have 3 of them because if I bought 3 with a coupon I could get $3 off), Publix All-purpose flour, Hershey Nuggets chocolates (BOGO). Most of these items I do not buy often such as the Naproxen, KIND bars, RANA pasta and chocolates. These items were on sale and great snacks or quick meals.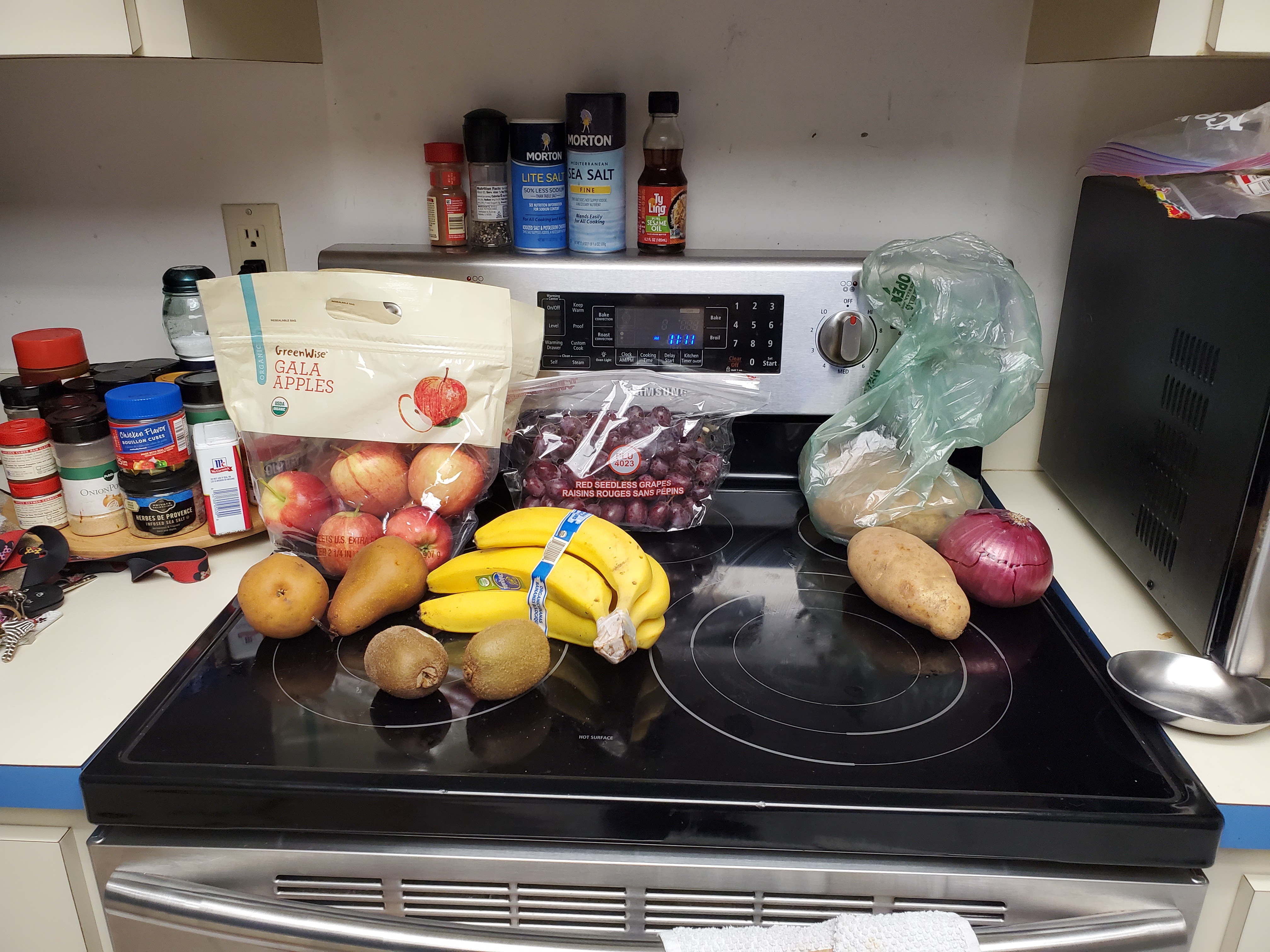 In this photo, you can see I have 2 bags of gala apples (BOGO), 2 pears, 2 kiwis, organic bananas, red seedless grapes (1.69 per lbs), 4 baking potatoes ($.69 per lbs), and 1 red onion. The items on the left of the photo are to bring to work, though I left one bag of apples at home. The right side of the photo is for me to cook for dinner sometime this week.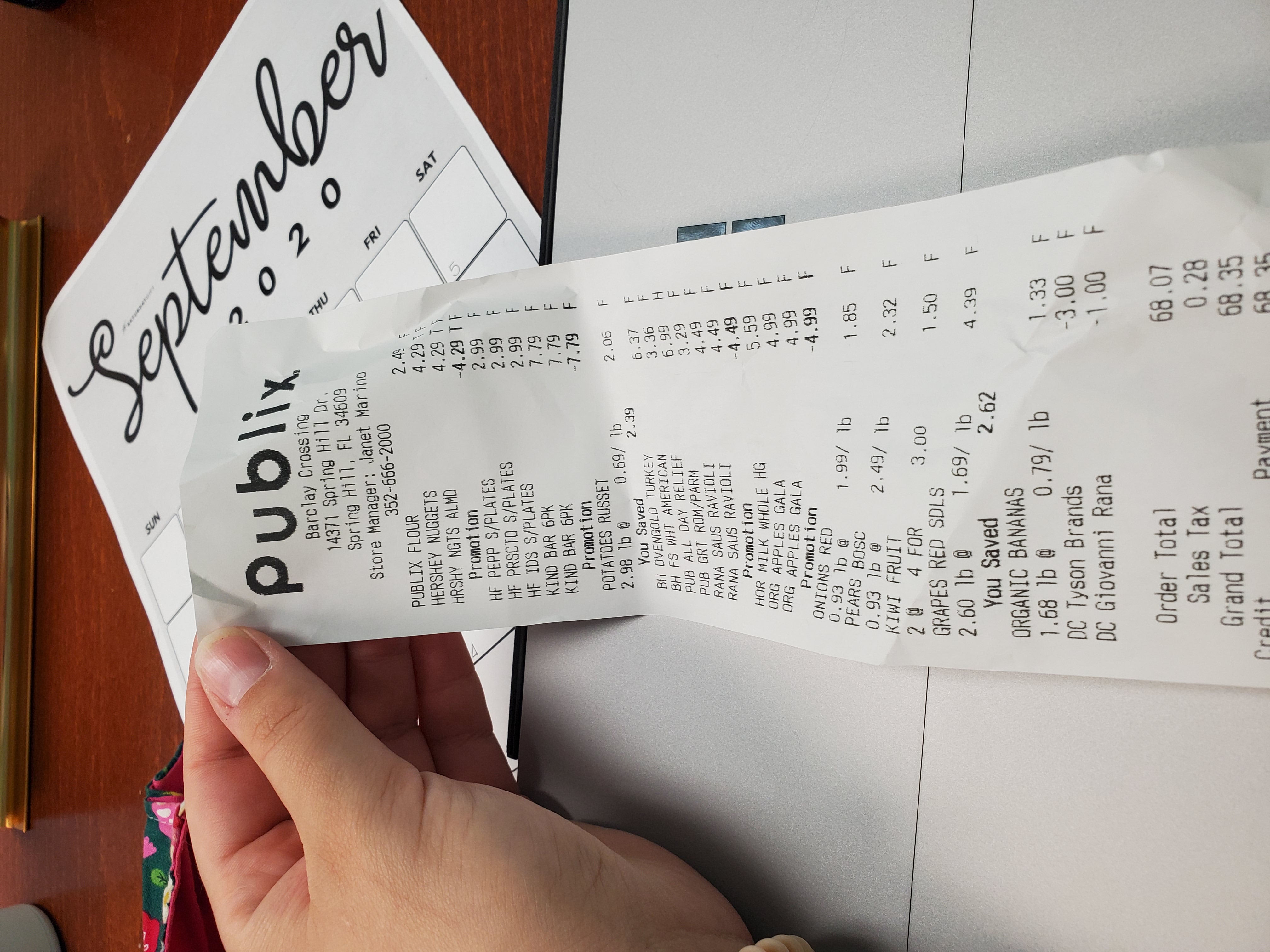 Here is my receipt! I spent $68.07 this week for groceries at Publix. This doesn't mean I don't spend more or less at times. Usually once a month or so, I go to Sam's Club to get chicken breast, ground beef, pork chops or other meats. I also love this store in Saint Petersburg called Hitchcock's Green Market. I will get fresh meats there, also, if they have a good deal! At this time, my freezer is fully stocked with ground beef, burgers, frozen veggies, ears of corn, chicken breast, sausage, hot dogs, bacon, and pork chops.
I personally love a stocked pantry, fridge, and freezer, and having a back stock at home. I always have dried pasta, rice, cereals, soups, chicken/beef, veggie broth, and different sauces. Now, these items are not the healthiest, but it is hurricane season when I stock all these up. I am a planner and would rather have it and not need it, than to need it and not have it. Maybe if I get the chance to re-organize my pantry I will post what that includes in the future!
I hope you liked today's blog! feel free to leave some suggestions for future blogs! I cannot wait to see you in the office!
Dr. Summer